Customer Reviews
Write a Review
Ask a Question
07/02/2020
Christie L.
United States
For my son
My son said he used it recently to assemble his new mountain bike and he liked the convenience of having it close at hand.
07/02/2020
Frank N.
United States
Fantastic product, a real game changer
This product is great! Since I bought it I've been using it to work on my Harley. It makes staying organized with parts and tools super easy, and stays perfect on the tank or seat as I'm working. I strongly suggest for anyone regularly working where they take things apart or work on non-flat surfaces.
06/18/2020
Shannon M.
United States
Where is my Purchase!
I am extremely disappointed with your company. Although I saw your product on GMA, I purchased (2) Grypmats outside of the TV promotional price, to promote your company. That's was a month ago. I got the Grypmats for my husband for Father's Day. Doesn't look like that is going to happen. Very disappointed ☹️
Hi Shannon, we are so disappoint to hear that this is the case. I have gone ahead and looked into your order and it appears that it may be stuck in USPS's shipping system somewhere. We've experienced this a few times curing the Corona virus pandemic effecting shipping providers. We will reach out via email to help make things right so we can sort something out for Father's Day. Thank you for notifying us.
06/02/2020
Nick C.
United States
it works
as stated it sticks, worth the money
04/01/2020
bryan c.
United States
It's awesome and I wish I had another!
For all the jobs I've done in the engine bay since I've gotten it, I have really loved having it. It's a great place to put your tools and parts and have them organized/easy to find. It does grip and stays put! Need another!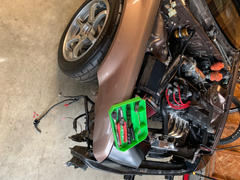 Thanks for sharing! So glad you love them. :)