LIFETIME WARRANTY
We stand behind our products against defects in workmanship and materials.
FREE SHIPPING
Free standard shipping on all U.S. orders.
VETERAN-Founded
Grypmat is a Veteran-founded company by a former Air Force F-16 Mechanic, Tom Burden.
NEVER LOSE A TOOL AGAIN
The Grypmat's bright orange color lets you easily see your tools and hardware and provides a visual management system. Matched with it's insane grip, you can say goodbye to lost 10mm sockets.
GET THE JOB DONE FASTER
Stop wasting time in-between your toolbox and your machine. Save countless hours in your shop by bringing your tool mat with you to the job site.
PROTECTS YOUR SURFACE
Whether working on a classic car or a multi-million dollar jet, never worry about scratching or denting the surface again.
EASY TO CLEAN
Simply use soap and water and your mats will be good as new and ready for the next task at hand.
Customer Reviews
04/07/2020
Joshua O.
United States
Grypmat
Has worked perfectly at my job. Allows me to hold tools and parts while on an aircraft.
04/06/2020
Tyler P.
United States
Great product that seems to be well built.
A+ but should maybe come down in price. I know alot of people that would love these but the price point puts them out of their budget.
Thanks for the feedback Tyler! We did recently come out with the Grypmat Plus series that are great for entry level/budget conscious. We'd appreciate it if you'd direct them to those. :)
04/04/2020
Minna P.
United States
Handy addition to the shop.
I was with my son as he used his Medium Grip Matt. He liked not looking for his tools and screws as he was working. I have bought one for 3 men in my family..
Thanks Minna, so glad to hear they love them.
04/02/2020
Mitchell M.
United States
What a great group of products!
I have purchased the Pro trio (orange) and the small DIY green set and I love these products. The green DIY products are smaller but the small green tray fits nicely in the larger green one. I love using these products in my boat and shop for organizing lures, jigheads and tools. What a game changer! I even had SeaDek installed on the console of my boat and I had SeaDek CNC-router out an area on the pad for my Grypmats. This will better help me organize my console top. I highly recommend these products!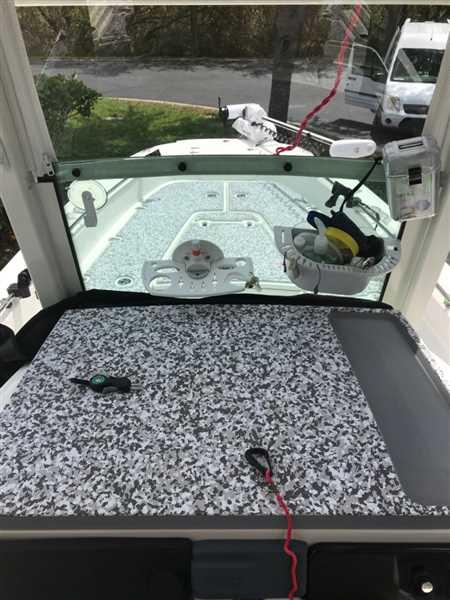 Woah! That's awesome. So glad to hear you're enjoying the Grypmats. Thanks for sharing this photo, we love it.
04/02/2020
Blain W.
United States
Mine won't stick to anything
I bought these because I have been looking for some of the flexible/visible organizers to go in the engine bay with me while I work. And when I saw that they stick to slightly angled glass surfaces, I thought that was pretty cool so I bought some. Come to find out that mine won't even stick to the slight angle of a windshield. It slides all the way down till it bottoms out. Over all I like the organizers / holders. There nice and thick good quality - mine just lack in the grip feature.
Hi, Blain thanks for leaving a review about your Grypmat. We recommend if you're having any issue with it sticking to your work surface, try cleaning the bottom side of the mat along with the surface with a wet wipe or rag. This should help!